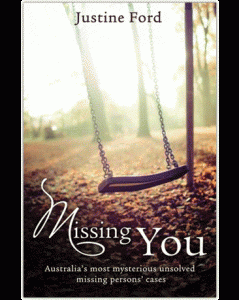 Over the last week its only been about missing people in my little corner of the world. Last week I spoke at the National Missing Persons Conference about the disconnect between the way the media speak about families of missing people and the way these families describe themselves. In the telling of the missing persons story, their stories seem to get lost in the process. The story of being left behind is not often loud because the need to search is the priority.
One of the handful of families that attended the conference last week was Loren. Loren and I met online last year through the editor of Mamamia. I recognised her from her little profile pic that Id squinted at the morning of the conference so that I knew who to look out for. Lucky she was wearing her glasses. Loren's brother Dan is missing, the day we met in real life was a year to the day since she'd seen him. The word yearn is not a word that pops into peoples vocabularies these days but Loren's pain and desperation and longing for ways to find her brother and bring him home radiate out of her. Her yearning is visible. In a sea of unfixable challenges the need to fix it for her is palpable. The same can be said for most missing persons cases whether we hear them face to face or from afar.
Five Mile Press sent me a copy of Justine Ford's new book to review on my blog because of my interest in the area of missing.  Missing You – Australia's most mysterious unsolved missing persons cases – catalogues twenty stories of unsolved missing persons cases in Australia. Ive read a lot of true crime stories over the years and especially so in the last year as Ive moved from the counselling world to the research space – its been an interesting ride. Justine's stories are told with respect and compassion about the multitude of situations people find themselves in when they vanish and the trauma of being left behind. Some of the names – Jamie Herdman, Christine Redford and Bung Siriboon- were familiar to me and others weren't. They were the ones I was interested in.  Families of missing people, the longer the person remains lost, have to compete for space to get their story noticed, they have to find ways to engage and then reengage the public to remind them that they are still searching, still yearning for answers. In the telling of a story in Justine's book she was able to share a piece of that person – it made them more than a missing person, it made them real. The cataloguing of clues, of Police insight (which seemed to have been provided with cooperation in this book) and the perspectives of loved ones, of forensic professionals and the stories of those that are found but not yet reunited with whoever may be searching for them is provided with enough space to give you a sense of what it might mean to not know where someone is.
One of the later chapters sums up the need to keep the interest alive – no matter how much time has passed. Linda Stilwell, was snatched from a funpark in St Kilda in 1968 at the age of 7. Her mother recalled that even back then people expected her to cry more than she did. Like many of the families Ive met over the last decade the challenge in living with a loss that may not be permanent means that those conventional ways of grieving, of releasing the sadness about the loss makes it difficult. It makes it difficult for people to truly understand what it means to live in that space of someone being both here and gone 'all I would like is to be able to give Linda a funeral, not be thrown away like a piece of rubbish'. Telling her story 4 decades later and still pushing for the truth through the coronial system just goes to show that families of the missing cant simply move on from their grief.
Its not often that a book gives a space to the grief of an unresolved loss – this book isn't just for people with personal experience of searching of missing but for the wider community wanting to understand more about the need to bring them home. Its unfathomable that someone can be here in a moment, gone the next and that no one has the pieces that complete that jigsaw puzzle. Someone, somewhere, must know something.
Missing You is out now. For more information about Justine Ford's new book click here
For more information about Loren O'Keefe's search for her brother, join her search on FaceBook.
Linking up with #ibot