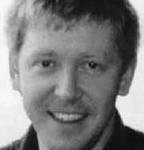 A few years back Robyn and I went to watch a performance. A story I had written about her in 2005 had been turned into an interpretive dance piece. We sat still in the audience watching it play out ahead of us. In walking back out to the brightly lit foyer afterwards we stepped to the side and had a giggle…meeting people who have had the worst happen to them doesn't mean that there isnt a space for a big laugh now and again. Robyn has shared her story of David with you all.
Have a read.
Robyn – its National Missing Persons Week. How many years has David been missing, what were the circumstances around his disappearance?
David went missing in Iran in November 1993.  He was on an extended trip travelling through Europe and had decided to travel home overland through Turkey and Iran and on to India before heading back to Australia.  He was an architect and interested to visit the various monuments in these countries.  He had been staying in Tehran with a family he had met whilst travelling overland from Turkey.  He was last seen leaving their house very early one morning on November 11, in a taxi headed for Tehran airport.  He was due to fly to Shiraz to visit the ruins of Persepolis, and then meet up with the family in a few days time. He never made his rendezvous.  It was a month later before we (David's family in Australia) learned that something was terribly wrong.  For several weeks we had been surprised not to hear from David – he had been in regular contact with family and friends.  We all just hoped that it would be difficult for him to contact home due to where he was travelling.  This was pre mobile phones and emails, so communication was far less frequent.  When he failed to call before his flight home, we suspected that something was wrong but still had no proof and hoped for the best.  My parents and I headed out to the airport to meet David's flight on the evening of December 8, 1993, only to watch all the passengers disembark without David.  This was the defining moment when we knew that something was terribly wrong. It was another month before we traced David's last movements to the family in Iran (tracked back from an address on a box containing a kilim that he had bought in Iran and shipped home).  Despite family travelling to Iran and extensive investigations involving AFP and DFAT, we have had no further news of his whereabouts in over 18 years.
How do you acknowledge the anniversary as it comes around?
There are so many anniversaries that are significant.  The last day we saw him, the day he was due home, birthdays, Christmas.  The day he went missing, November 11, was also my parents wedding anniversary.  It is also marked by Remembrance Day, which is now particularly poignant for me.  When people pause for a minute silence on that day, I think of David.
Your parents passed away without finding David – did they ever come to terms with being able to sit with 'not knowing?'
Mum and Dad both died longing for news of what had happened to David.  I don't think they ever came to terms with not knowing and I believe that they both died with broken hearts.  It makes me so sad that the final years of their life had to be so hard.  I have to make a conscious effort to remind myself that they were not always sad and that a large part of their lives had been happy.  It's easy to remember the worst times when they are the freshest memories. I keep a wedding photo of theirs in a frame at home.  It's a close up of just the two of them. They are young and look so happy.  When Mum died I felt like it had been so long since I could remember her being happy in any way. That's when I got this photo out and framed it. I keep it there to remind me that there were good times.
How do you handle the question – have you got any siblings?
It really depends on the situation. It still conjures up very raw emotions for me, even after all this time. I never say that I am an only child, but how much information I share about David's circumstances depends a lot on who I am with.  Most people don't cope well when you tell them that your brother is missing. It's not a situation people are familiar with and as such, don't know how to respond. The result can some be insensitive comments – a situation I try and avoid.  Sometimes I will say that I had a brother but he died.  If I feel comfortable, I will share my story.
Whats does missing persons week mean to you?
A moment to pause and reflect.  It's the first week in August which is also my Mum's birthday – so again anniversaries seem inextricably tied together with "missing".
Missing seems to permeate everything.  It's a huge part of who I am.
For more information about National Missing Persons Week or about the only support service in Australia that responds to families click here.