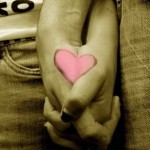 Some times I just dont get it. And by it I mean life. I dont understand why some people have to face so many heartaches and so many challenges. I was reading Naomi's blog the other day and noticed a few people talking about Lisa King, so I jumped over to her blog and was struck by the beautiful picture of her with her husband and her four kids on the beach. I used to work with families who had littlies with disabilities – Id help out during arsenic hour with cleaning and dinner and baths and books. It was probably the most useful two hours of my day. Having kids of my own makes me remember those little families even more because my kids are healthy and well and yet I still struggle some days.
Lisa lost her husband Aaron last week, four months after she lost her 10 year old son Noah. In the blink of an eye he was gone and she has been writing and I guess wrestling with the reality of that moment in time ever since. She takes beautiful photos and has been recording the time since Aaron died for both herself and her three boys. One of the images was of her holding her husbands hand during her last visit to the funeral home the day before the service. I wept as I read her thoughts and I wondered how after years of parenting kids together how she would curl up in bed at night without the warmth of her husband beside her.
Naomi put out a call to other people who read her blog as so many wanted to help but didnt know how…in the week of collecting, the figure has skyrocketed showing that the urge we all have to help is so strong.
I often wonder when stuff happens how is the best way to help, the money, the thoughts, the food…they all help in some ways but I guess that stirring inside us to cry tears for people we will never meet is the most amazing part because it shows that you dont have to live next door to create a sense of community – caring can be done from afar.
Jump over here if you want to donate but also send your thoughts – it could happen to anyone, but how sad that it had to happen to her, again.