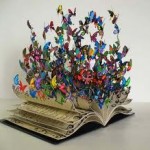 image from here
I was reading an article while my boy slept on the backstory authors have in the process of writing a book. The little pieces that get you to the point where you are ready to begin the story-telling.
I can remember a few months back when I talked about people's little bio's. The little snippets of themselves they give in three sentences or less when they meet someone new. Im thinking of starting a new one as I discovered this week that someone typed into google 'can a baby be born in space' and found my blog. Astronaut is the new addition to my bio.
Both blogging and life often start with a backstory. A reason to explain where you are, how you arrived here and what you've got to say about it. I notice that most of the time when people start a blog its born out of something that happened to them that shapes them into the writer they are today. Some of the backstories come from places of trauma and sadness, of the need to overcome adversity or just an attempt to make meaning from their loss. Sometimes in the sharing of the backstory the unravelling of what brought them to that moment becomes clearer.
I was having a text chat with an old friend (because who has time to actually speak on the phone??) and we were talking about the over-sharing phenomenon that happens to certain people. Having a social work degree doesnt always extend to after business hours but the listening skills you develop mean that if someone is going to make a graphic disclosure about their backstory at the park, at the dinner party or waiting in line at the supermarket its going to be us. I dont have the heart to stop people even when Im late or tired or all full of other peoples stories. The backstory share is the challange of a kind face Im told.
I think when stuff happens that make life more difficult we tend to get frozen to that time. Its as if our lives become the before and then the after and the space in between becomes the material for the backstory that impacts on the stories we are telling now.
Does your backstory impact on the one you're telling now? Do you share it with other people?