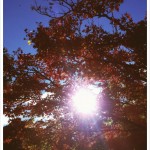 I'd been following Kristian's blog since I saw that snippet of his life on a big American TV show. I was impressed with his honesty , his integrity and his capacity to put into words what love meant for him.
It was with great sadness that I saw a little post on twitter the other night saying that he had slowly slipped away. I went back to his blog that I had been reading and was really struck by what a fast decline there had been in his condition – only a few short months ago he was talking about his hopes for the future but probably the most difficult post to read was how he was slowly answering his children's questions. I kept wondering after I saw that little blip on twitter what his boys must be thinking and how they could slowly be sitting with that first layer of sadness hearing that their dad was now gone.
I did some creative writing prompts early on in my blog career (well September). This one played heavily on my mind when I read about answering stuff. It also played on my senses when I thought back to last week and the struggle I had in explaining how unfair life can be to my beautiful girl. I watched her struggle with the rawness of truth, the shitiness of how other people's behaviours can impact the very core of you and how loss can be exaggerated at different times. Some of the year we happily skip about not noticing what is absent and then at certain times loss knocks at your day and you just cant turn it away. Difficult concepts to explain to little people.
I got an email from a research fellow this morning asking for some thoughts about how young people live with the loss of a missing person and I pointed out that there was so little (well nothing) written about it but that many moons ago when I had sat with some kids I did notice that no one should fear saying "I just don't know'. It doesn't provide the answers to any of life's questions but it does give a response that is honest, respectful of the child's need to know and the starter of a conversation that might lead to more uncovering of layers as time goes by. It provided an opening line to a very long dialogue.
Parenting in happy and sad times probably teaches me more about life, resilience and moving on than any book I could ever open.
Vale Kristian Anderson